with a frame that size on my own, so I decided to just build the entire frame bit by bit in the opening.
I first cut the top and bottom inner frame sections from shutterlpy and attached one side front with the 45 degree angles cut at exactly the right places. Next I cut the side inner frame sections so they could support the top while I screwed it up into place. I used wall plugs and expected a big job drilling up into the lintels, but just so happens as I drilled through the plaster the bit slipped into the gap between the two lintels - and the wall plugs I had chosen fitted snugly in between the lintel gap. Couldn't ask for better luck than that!
Martie helped hold everything in place while I tightened up the coach bolts into the wall plugs, which expanded nicely in the lintel gap to secure the top inside frame. The rest of the frame will not be secured into the walls - the plan is to have it all (hopefully) locked in place by the front frame strips on both sides of the wall glued to the inner frame.
Once the top and bottom frame sections were in place I cut the left and right side front sections of the frame, sanded and sealed them and then glued the 45 degree bits to the top and bottom front frames, using clamps all over the place to keep it all square
Top and bottom insides and
fronts of frame fitted
Fitting left hand front of frame . . .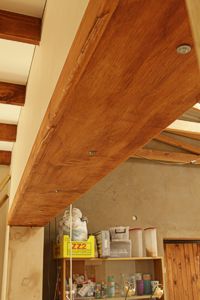 Coach bolts and wall plugs
between the lintels to keep it up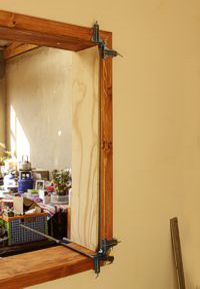 . . . and right hand front of frame