After nearly 100mm of rain falling in the south of Heidelberg during the second week of November, Saturday morning was a good time to take the dogs out for a walk to the dam. The air was fresh after the rain and the ground still moist. And the dam had a good amount of water in it.
Two of Che's kids, Precious and Georgia were already out there swimming and the dogs enthusiastically joined in.
It was the first swim ever for the puppies. Spot took to the water with no problem as he knew what happens when you step into it from when he played in the duck pond. But Eva had no idea what water was like and she entertained us as we watched her try and run onto it to get to spot, who was already swimming out into the deeper water. But it wasn't long before she got the idea from the other dogs and her natural swimming instincts took over. She was then able to keep up with the kids and all the other dogs swimming around and jumping in and out of the dam.
It was a beautiful morning with water seeping out of the rocks in the hills wherever you looked. Strong streams of water were running down all the gorges and there was a lovely little waterfall as all the streams came together to feed into the dam.
We spent a few hours giving the dogs a good workout in the water. And when all the excitement was over and the puppies tired of splashing about, Dakota took the opportunity to go in for a cool, leisurely swim.
Then it was time to head home just over the hill for lunch.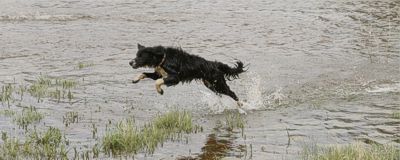 Eva getting to grips with this new surface. Spot had some idea
of what it was all about as he had experimented in the duck pond.
Eva's first reaction was to try and run on it!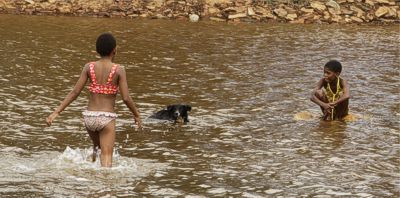 Precious and Georgia encouraging Eva into the deeper water
Tess joining the Collies in the water for a splash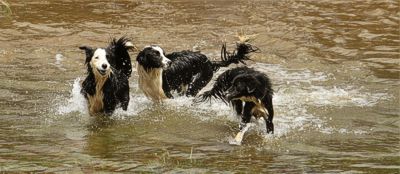 Charlie and her two puppies playing in the water