With the summer crop growing season over and all harvesting now done, Martie is very busy contemplating and out planting her winter crops. Not much else happening here out on the farm so I've been catching up on a fair amount of woodwork, some modelling in between and then quite a bit of business stuff as well.
On the woodworking side, we're aiming to have a fully functional kitchen up and running fairly soon. We're finally using some of those old computer shop shelf carcases and making them look a bit more like kitchen cupboards.
The main problem is that they're 1000mm width instead of the standard kitchen cupboard 800mm width. Cupboard doors 500mm wide (with a depth of 600mm) just don't look right so I put in some 200mm filler panels between the doors on each cabinet to bring the door widths down to 400mm wide. That looks so much better but the result is that we do now have uneven door spacing. But they'll eventually be workshop cupboards, so really not too serious.
With a few sheets of various sized 20mm pine shelving, eight Euro hinges and a packet or two of assorted screws we were ready to go. Lots of cutting, sanding, fitting and finishing and the cupboards were starting to look like something.
Then finally it was down to mounting them onto the newly painted workshop kitchen wall and fitting the doors. And then it wasn't long before Martie was packing her kitchen stuff into her "new" cupboards. Not sure what we're going to do for door handles yet - just can't find any old style handles to match the bottom cupboard.
The job is not quite done there though, as we still have more cupboard doors and the rest of the 900mm wide double bullnose kitchen top. So we've decided to build another slightly smaller workbench to match the first one and as we still have a few computer shop shelf carcases left, we're going to extend the wall cupboards another two sections to the left. Lots more woodwork to follow soon.
Cupboard carcases on the left, cupboard doors on the "workbench".
In the foreground, and not for the kitchen, a rabbit hutch in for repair.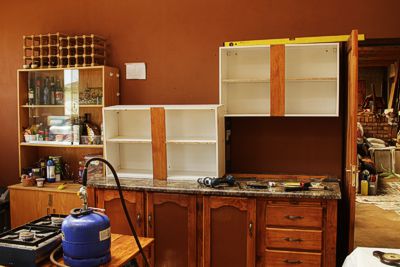 One cupboard already fixed on the wall, the other just about to go up
Both cupboards mounted and bottom finishing strip being fitted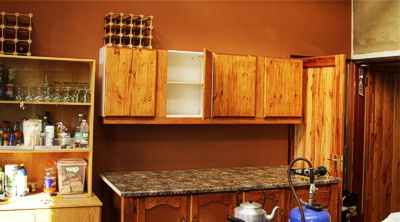 And done - with all the finished cupboard doors fitted