areas where we needed to walk to get around the farm. I decided this year I was going to cut different patterns and started with a wide pathway from the lapa to the pumphouse.
While I was cutting I noticed in the corner of my eye a lone stork hanging around. I couldn't keep too close an eye on it as I needed to concentrate on steering the tractor in straight lines, which was in itself not easy as it has about a half a turn steering wheel play in it's steering system! Martie told me afterwards that the stork had basically following the tractor wherever I was cutting and was catching all the insects in the freshly cut grass that were disturbed by the cutting. Later, when I went around to cut the driveway and "tea garden" area, it flew over and followed the tractor there as well.
Next morning early it was still foraging through the cut grass for insects and later in the day flew off - probably to find another farmer who was cutting grass.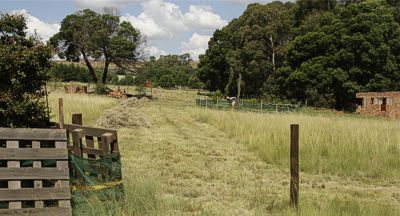 New path between lapa and the pumphouse. Piles of grass gathered.
Our stork visitor up at the pumphouse