Back at the Farm cottage building site, the plastic, ref193 steel mesh, river sand, stone and cement had all been delivered so the builders moved back there to cast the concrete floor slabs.
After a final compacting of the sand surface and filling in a few little "soft spot" indentations, the plastic and steel mesh was layed down for the kitchen and bathroom areas. Thankfully I remembered at the last minute that we needed a waste pipe for the shower in the bathroom and had to hastily fit that while the concrete was being mixed.
We also layed plastic and mesh down on the area where we would be building the little step between the lounge and bedroom areas.
Then it was almost two days of mixing and pouring concrete to get the floor slab down. I tried my best to keep the site neat and clean but it was just impossible. The builders insisted on continually overfilling the wheelbarrows with the resulting inevitable spills on the way to the pouring site and we had some rather big splashes over the side face bricks to clean up afterwards.
Serge's boots, plastic bag socks
Kitchen and bathroom section done first . . .
. . . then the lounge step area. Once concrete had set sufficiently
the step brickwork was done, and then the raised bedroom floor . . .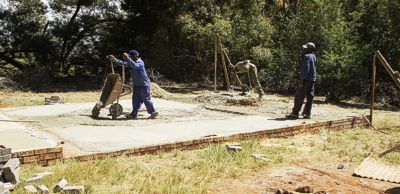 . . . and finally the rest of the lounge section.