get in the way when I pick up a spade.
So day 2 of laying the veranda concrete (a Friday) came and went. In the morning before lunch the next section was prepared, the plastic layed down and mixing, pouring and levelling got going.
After lunch the next 3 meters was done with us still being able to get the builders to town in time for their taxi. Needless to say there wasn't much time for cleaning up and we had to leave that for the next morning.
I am also trying something a little different with this concrete slab. As I know we're not going to screed the veranda any time soon, I'm waiting until the concrete is just dry enough to stand on but still wet enough to work (normally really early the next morning before the sun can get onto it) and with a wooden float, down on my hands and knees, rub the surface to a neat "floated" finish, getting rid of all the levelling plank surface lines. Really, really hard work and I've already worn out one wooden float.
This section would get us about halfway across the length of the veranda and after a really big cleanup, would be adequate to give us a reasonably clean area for our big Photography Club Star Trails event due to take place on the following Saturday evening.
From the entertainment platform side,
first 3 meters of section 2 cast before lunchtime . . .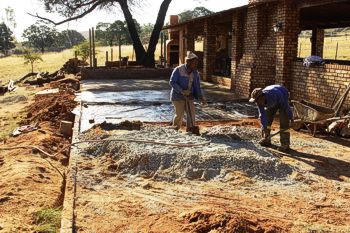 . . . and from the bathroom side, mixing started for
the next three meters.