And the star of the show, at one week old . . .
Early morning feed, ready for a nap in the dog basket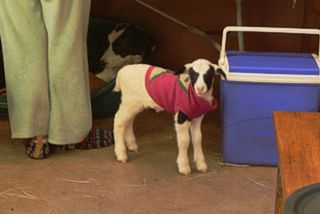 Hanging around the kitchen
What's this!? I thought the deal was the lamb
could stay in the bed until he falls asleep?

Staying with the babies, when one of our Bantam hens went broody about three weeks ago, Martie got a few Potch Koekoek eggs from the farmer across the road and we put them under her, removing most of the Bantam eggs. She hatched two chicks and as soon as she left her nest in the chicken coop we moved the little family out to the rabbit hutches where she could teach them to scratch around in the dirt and eat goggas.
Our older Koekoeks are now producing eggs reguarly. It's still a bit cold for normal egg production, so we're hoping for a really good egg supply when it warms up again.
The sheep don't seem to have noticed that there's a young ram missing and when we don't feel like chasing sheep about the growing tunnels when they return from their grazing, are very happy spending some days in their enclosure where we feed them from our bales of dry grass. Looks like our stored feed should easily last us until summer is back and the grass starts it's new growing season.
The freerange Bantams are doing well and never too far from the kitchen door where they get their food scraps. They are great entertainment, especially with the young roosters now starting to learn to crow.
Otherwise, everything is fine and peaceful with all the animals on the farm. We're even learning to live with Biscuit, the goat. She has her good and her bad mood days - could be a goat thing, or a female thing, not sure.