A bit of plaster was mixed, then some screed. The damp screed was put on the top of the braai lintels, carefully compacted and then cut level.
While waiting for that to dry out a bit the plaster was thrown onto the inside bottom walls. One side will eventually be a cupboard for all our braai tools and accessories and the other side will be a wood storage area. That plaster was then also left to dry out a bit.
Then a mortar mix was made and Leno then build up another two courses of face brick on the top of the braai. This should help prevent the wind blowing "over" the top of the braai, cooling the cooking meat and hopefully allowing air in through the holes in the wall down at the fire level only. Well, that's the theory.
Then work began on making those lintels look good. The plaster was thrown onto the lintel sides. Now that was a chellenge and despite adding some plaster key liquid into the mix, Leno really battled to get plaster to stick. Slowly and carefully he got it all on and then worked the corners smooth. A rather tricky process for the top surface as the plaster mixture from the sides had to be combined with the screed mixture on top to make a nice smooth surface.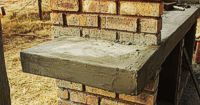 Working the sides smooth
- left "side table" detail